NEWS
2021.03.24
Tavitt Launches a Decentralized Exchange (DEX) TAVITT SWAP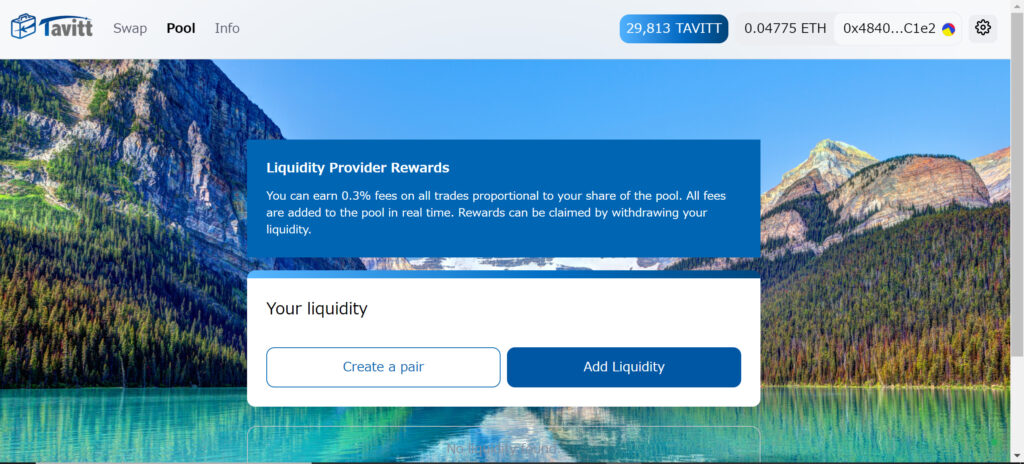 TAVITT SWAP is a decentralized exchange that allows users to swap (exchange) ERC-20 tokens such as DeFi tokens on the Ethereum mainnet and earn a reward by depositing tokens and providing liquidity in pools.
Anyone can be a liquidity provider and receive a 0.3% fee of the transaction volume as a reward by supplying equal values of ETH and specific token into a pool.
Also, early liquidity providers will be given free Tavittcoin (TAVITT).
There is no administrator on the decentralized exchange (DEX) that exists on the blockchain.
Since you connect your own wallet to Tavitt swap to trade, users are the one who are in control.
So TAVITT SWAP is a secure decentralized exchange (DEX) with no risk of asset theft due to hacking wallets or internal fraud.
TAVITT SWAP
https://tavittswap.app/
■Main Features
1. Swap (Exchange of ERC-20 tokens)
You can exchange ERC-20 tokens and ETH (Ethereum).
2. Pool (Provide liquidity and earn a reward)
You can provide liquidity into a pool and receive a reward in return.
The liquidity provided can be withdrawn at any time.
As a reward, liquidity providers will be paid a 0.3% fee generated when the pooled tokens are swapped.
e.g.:
If you pool $10K worth of ETH
↓
The trade worth $10K will be executed.
↓
You can receive tokens worth a 0.3% fee of the transaction volume, which is worth about $30 in this case.
↓
You can receive rewards in your own wallet by withdrawing the pooled tokens.
3. Tavitt Farming (For a limited time)
1. Tavittcoin will be distributed when you deposit the following pair tokens on Tavitt swap:
ETH / USDT, ETH / USDC, ETH / DAI, ETH / WBTC, ETH / TAVITT
2. You can gain even more Tavittcoin if you pool the following pair tokens on Uniswap:
ETH / TAVITT, USDT / TAVITT, USDC / TAVITT, DAI / TAVITT, WBTC / TAVITT, UNI / TAVITT
* For those who pool "ETH / TAVITT" double tokens will be distributed.
Become an early liquidity provider and get the first-mover advantage now!